Here's some recent headlines.  This is the world we live in today. We can't control it.  We can choose to get bent out of shape over it.  OR we can BE proactive.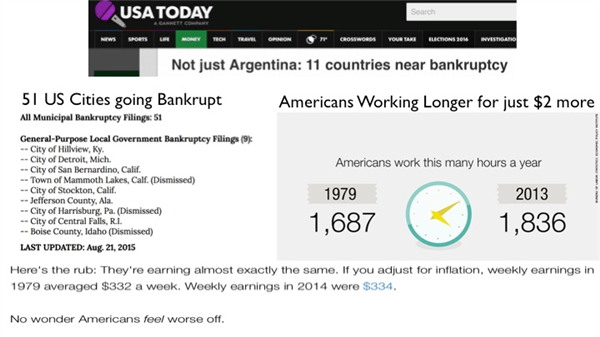 In addition to the above, the vast majority of Americans are just one or two paychecks away from complete and utter financial disaster.  A car wreck, house fire, a medical situation – or for some who are really close to the edge – a flat tire or their kids needing  a new pair of shoes and "poof" they'll be over the edge, upside down or worse.
So at the end of the day, Yes the headlines are scary, but it's not really THE economy that gets people upset – it's THEIR economy that has them all messed up.
So when we hear people commenting on the headlines like those, or complaining about their work situation WE have an obligation to ASK them if they're just commenting or complaining; OR are they READY to DO something about it?  We MUST ask the question.
When one has specialized knowledge one is obligated to share it in order to Serve others.
As Entrepreneurs we have teams and tools that can provide a REAL solution for many people.  The real product we have to offer people is FREEDOM.  Freedom from the tyranny of CNN (Constantly Negative News).  FREEDOM to choose family and values over just getting by. FREEDOM to create mutiple streams of revenue.  FREEDOM to work more hours and get rewarded based upon what you're actually worth and the value you add to those around you. FREEDOM to create a better household, better community and better country.
Small businesses built America and small businesses will save America.
Dr Bill